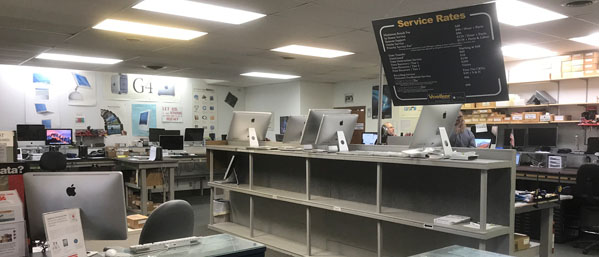 Voelker Research can fix it!
Warranty and out–of-warranty Apple Authorized Service
No Appointment necessary, but available if you prefer
Repairs performed at our location or yours
Data Recovery
Individuals, businesses, schools
What makes the Voelker Research approach different from most other service providers competing for your service? The Voelker Research difference is easy; we take a unique approach to getting your problem solved quickly and accurately, using proven and effective strategies, and maintain a full staff of Apple certified service technicians.
Unique: Voelker Research uses 'Better Thinking to get Better Results" when it comes to resolving your service needs. We don't simply diagnose problems by referring to service manual check lists as many other service providers do, but using years of experience and proven methods we make sure we have a complete isolation of the problem, a known solution to fix it and make sure it gets completely solved.
Proven: Voelker Research has been serving Macintosh and compatible computers since 1985. With this much experience behind us, we're confident providing Apple authorized warranty and non-warranty service – in fact,  Apple has rated us number one in service excellence. When you come to Voelker Research you know your equipment is in hands you can trust.
Committed: At Voelker Research, we take servicing your equipment seriously. We know that not having your equipment can cause you loss of productivity and earnings, as well as unneeded amounts of grief –  and we make every effort to get your equipment back to you in a speedy manner while at the same time ensuring your problem has been completely solved. That's the Voelker Research difference.

Check out the Voelker Research Repair Pickup service