ServiceMaster II is a batch of tools commonly used by Mac technicians combined into a small, easy to use application. It provides three basic functions;
System stress testing

User Account manipulation

Network stress testing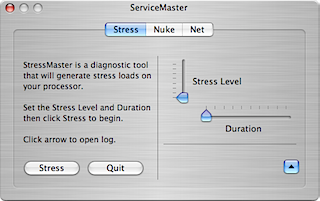 The Stress test module allows you apply a controlled amount of CPU load to a machine under test. You can control both the level of stress and the duration of the stress test. This is useful for aggrevating intermittent problems and uncovering issues relating to heat management or cooling. It's also a great way to gain confidence in the reliability of a particular unit before it leaves your shop.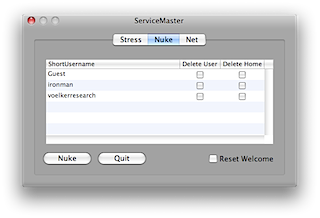 The Nuke module provides the ability to selectively delete user accounts from the NetInfo database(OS X 10.3-4) or from the local Directory (OS X 10.5+), selectively delete user home folders and reset the Apple new user setup and welcome message. This is useful to resellers who perform pre-installation of software for their customers but want to retain the new-user experience and registration for them.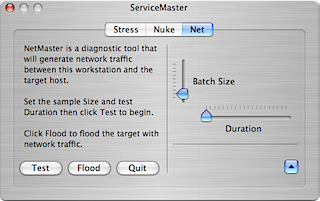 The Net module is a very simple method of generating traffic between two networked hosts. This is useful when troubleshooting reports of intermittent connectivity, such as Airport Wireless networks, or load testing network cabling.