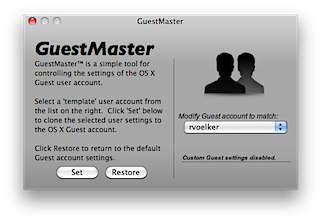 GuestMaster is a simple tool that allows customization of the Mac OS X Leopard 'Guest' user account.
Because the OS X Leopard Guest user account is restored to it's default factory configuration each time a user logs out it's not great way to provide a user access in a public use setting. The problem is that the factory default settings for the Guest account are very plain. So plain, in fact, that a user would likely spend several minutes configuring applications, answering first-run questions and importing content before the machine was actually usable.
GuestMaster allows you to 'clone' an existing user account - an account that has settings, content and media already loaded. This allows customized items like the desktop background pattern(say, your company logo), pre-seeded iTunes Music, or an iPhoto library to be recalled exactly as they are in the "template" user account. And, each time the Guest user logs in, they are restored again - just as they were when you did the clone.
With GuestMaster™ installed public access machines to be used, abused and changed to the hearts content of anyone who might walk up - and then with a logout/login be restored to your pre-set configuration and settings.