Colorado Safer at Home Information
Voelker Research is practicing distancing and contact restriction according to the Governor's State Wide Safer at Home recommendation. At this time we continue to provide sales, service and support via appointment only. Please consider using our Contact Form to begin the scheduling process or call for more details or to schedule an appointment – (719) 528-5596
Voelker Research is an Authorized Apple Reseller and Service Provider with over 30 years experience providing Sales, Service and Support on Apple and Apple related products.
We provide Apple Authorized Service and Support for the following Apple Products (in Warranty and Out of Warranty)
iMac 21.5″, 27″
MacBook Pro 13″, 15″, 16″
MacBook Air
MacBook
Mac mini
AirPods
iPad Products (Limited)
…and all legacy/out of warranty Apple products
We do not provide service for the iPhone product line – sorry!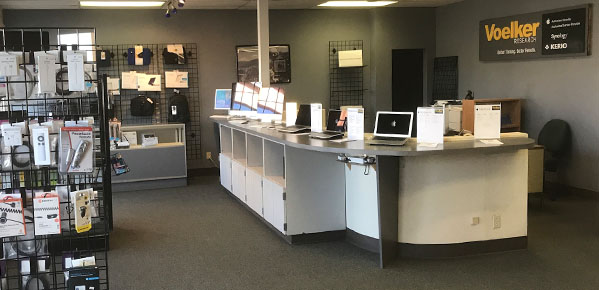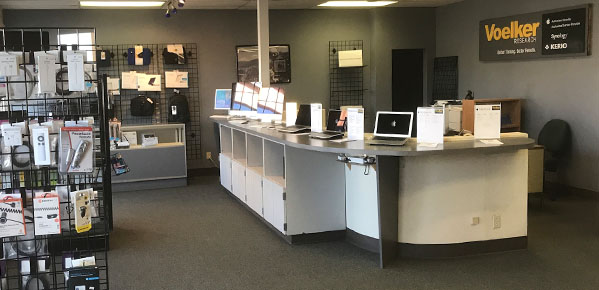 Voelker Research has been serving the Apple Macintosh community since 1985. As an independent and locally owned business, we strive to provide top quality sales, service, and support for all Apple and Apple related products and peripherals. We are totally devoted to supporting the Macintosh!
We offer a wide variety of services
New and used equipment sales, software sales, consignment service, software/hardware consulting, and network design. Our service department maintains a large staff of fully trained technicians capable of providing authorized support for your Apple products. If you are in need of sales information, product literature, technical support, or just about anything that has to do with the Mac, stop by and check out what we have to offer!
Why shop Voelker Research?
Our unique approach to the sales process assures that you will always receive the best configuration for your needs. From the identification of software requirements to the proper matching of hardware for a particular purpose, our sales staff will guide and suggest solutions that not only fit your requirement, but meet your budget as well. With so many items to choose from, this guidance can prove very helpful!