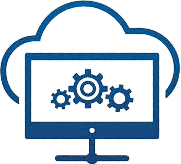 Managed Services
Businesses often don't realize the costs associated with poorly maintained technology. Handling IT issues yourself can be viewed as a cost savings but in reality it ends up being a poor use of you or your employees time. Hiring an expert on a case by case basis might fix the problem temporarily, but rarely gets to the root of the problem to fix it permanently. Our managed services plans fix these problems, and allow technology to become a revenue generating tool instead of a constant headache.
Proactive Maintenance
Monitoring helps identify issues early on, but perhaps the most important aspect of a managed IT solution is how it combines proactive monitoring with proactive maintenance. It uses software and services that go beyond identifying problems to fixing them—blocking undesirable software upgrades, automatically deploying essential security updates, and removing malware—before they impact your workflow. This saves your users downtime and frustration, and lets you focus on your work rather than troubleshooting problems.
Predictable IT Costs
If your company pays for support on an hourly billing model, there's no way to budget accurately for expenses, since no one can predict what will go wrong. Plus, it takes longer to investigate and resolve problems because of the time necessary to figure out the status of the device in question. Solving complex or recurring problems can get expensive in such a scenario.
With managed IT services, we instead charge a flat monthly fee. Thanks to proactive monitoring and device management, we can fix many problems before the user even notices. And if a user does need in-person support, it's faster and easier to help them when we know exactly what device they're using, what version of the operating system it's using, what software they have installed, and more.
Increased Productivity
By letting us manage your IT infrastructure, we can make sure everything works in harmony so you can stay busy running your business. Not only do we make sure your current technology works, but we continually introduce new technology to make you're more productive which leads to more profit!