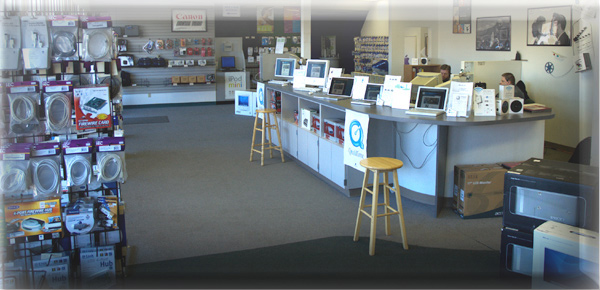 Voelker Research has been serving the Apple and Apple Macintosh community since 1989. As an independent and locally owned business, we strive to provide top quality sales, service, and support for all Apple and Apple related products and peripherals. We are totally devoted to selling and supporting the Macintosh! We are located at 5026 North Academy Blvd., Colorado Springs, CO 80918. Feel free to give us a call at 719-528-5596 or drop us a line via email
Why shop Voelker Research?
Our unique approach to the sales process assures that you will always receive the best configuration for your needs. From the identification of software requirements to the proper matching of hardware for a particular purpose, our sales staff will guide and suggest solutions that not only fit your requirement, but meet your budget as well. With so many items to choose from, this guidance can prove very helpful!
We offer a wide variety of services.
New and used equipment sales, software sales, consignment service, software/hardware consulting, and network design. Our service department maintains a large staff of fully trained technicians capable of providing authorized support for your Apple products. If you are in need of sales information, product literature, technical support, or just about anything that has to do with the Mac, stop by and check out what we have to offer!
Why buy locally?
When you spend your money with a local retailer instead of a national chain, every dollar you spend stays in the local economy seven times longer than if you had bought that item from a national chain. Get better service. Help create and sustain jobs. Invest in the community.
We are located at:
5026 North Academy Blvd., Colorado Springs, CO 80918
Hours of operation:  M-F 9:00am – 6:00pm.
Contact us:  719-528-5596 or via email.