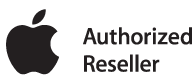 Apple Authorized Resellers are independent Apple Dealers and Service Providers with a strong commitment to the Mac platform, and have met or exceeded Apple's highest sales and service authorization levels. As an  Authorized Reseller, Voelker Research is focused exclusively on Apple solutions and combine technical expertise with a commitment to customer service  before, during, and after a sale.
Creative solutions, exceptional customer service.
Serving consumers, small to medium business, and enterprise customers, Voelker Research takes pride in offering top-notch customer service with local support personnel available on your behalf. In addition to providing a lineup of superbly-designed, fast, and reliable cross-platform solutions based on Apple technology, Voelker Research also offers on–site and in–store services such as:
Technology analysis
System and network configuration
Software installation
Custom software solutions
Purchasing recommendations

Mobile-IT services
Creative Pro solutions
Troubleshooting
Maintenance and support
Authorized Resellers are technology and creative solutions providers whose expertise can help solve your technical challenges and achieve your goals. By working with an Authorized Reseller such as Voelker Research, you not only get Apple expertise, but a valuable long-term relationship that will assist you into the future.